Saturn's Shani Ring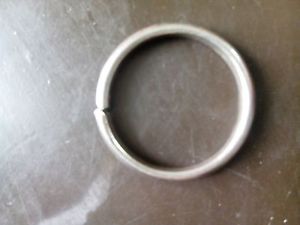 It pays to remember that some people in Sadhe Sati do very well and hardly notice any roughness. Even during the seven and a half year transit events are likely to go through cycles of improvement and worsening. Normally we fear from Sadesathi word and most of the people do not like this. moon is sign of our brain, thinking & feelings and Saturn is the sign of fear, insult, depression and negative thinking. When the feelings of our heart, mixed with fear and insult than a person feels in trouble. In other words, Saturn is the sign of hard behavior, Discipline & principles. So that is why at this time a person feels great trouble.
Iron is the metal of Saturn.
The middle finger is the finger of Saturn.
Saturday is the day of Saturn
Shani Mantra: "Om Pram PrimPraum Sah Shanicharah Namah "
Pricing 30$
Prices given above are inclusive of Shipping/Handling Charges.
Various other Puja items are also available with us on demand. Please send your request by email at netmaxsolutions@yahoo.co.in, to enable us to send You details of the products i.e. availability, weight and pricing etc. Shipping/Handling charges may be extra.