White Sapphire or Safed Pukhraj Stone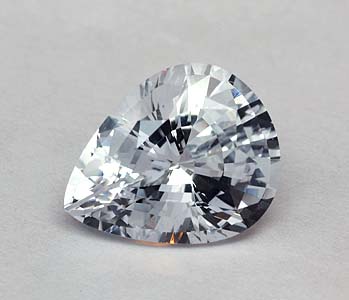 White Sapphire is a near colorless corundum often used to simulate a diamond. However you can see by it's hardness white sapphire is a durable gemstone in it's own right. Though they often have a slight tint of color, be that blue, yellow, or any other color they can often be found colorless. Diamonds are the most popular colorless gemstones. Topaz is also found colorless in nature. White sapphires are sometimes used as natural substitutes for diamonds.

A White Sapphire is a colorless form of Sapphire of jewelry as a diamond substitute. Sapphires tend to be much less expensive than diamonds, and socially conscious purchasers who are concerned about conflict diamonds can avoid political issues by purchasing sapphires instead. Most White Sapphires are heat treated to obtain the desired clear color, as it is very rare to find naturally occurring white sapphires. Some may also be chemically treated, depending on the quality of the stone and its intended use. It is also known as Colorless or Safed Pukhraj.All of our Gemstones are Natural, Lab Tested & Certified.
Pricing starts 150$
Know your Birth/Zodiac Stone based upon Vedic Astrology
Customize Jewelry Making Facilities
We have full fledged facilities to make Gold/Silver Rings/Pendants/Bracelet of the given size, embedded with your Astrological Gem Stone/Birth Stone. We are manufacturers of Gold Jewelry studded with Precious and Semi-Precious Gemstones/Birthstones, diamond & colored gem stones, Silver/Gold Rings, Pendants, Bracelets, Earrings.
View Our Rings/Pendants Designs