Pitra Dosha Puja & Graha Dosha Nivaran Pooja

We offer Dosh Nivaran Puja for all planets viz.Rahu Dosh Nivaran Puja,Ketu Dosh Nivaran Pooja,Shani Dosh Nivaran Pooja,Mangalik Dosh Nivaran Puja,Kal Sarp Yog Dosh Nivaran Puja etc.All the Pujas are performed by Brahmin Priests and Puja event is Videographed.The Puja Sankalp,Puja Prasadam,Energised Yantra with Puja DVD is sent to the Puja organisor

Chandra Dosh Nivaran Pooja
This dosha affects relationships of the person with the others around him. Unfavourablility of moon god causes various kinds of physical pains and diseases like mental tensions and diseases of breath. He is pleased if one fasts on Monday, or if one eulogizes and worship lord Shiva.
Mangal Dosh Nivaran Pooja
In Hindu Marriage Mangal Dosh is very common. In reality, it is not Mangal Dosh but it is called sumanglik dosha, it means problem in auspicious events of marriage life. In other words, hurdles in something auspicious or good work is known as Mangal Dosh. This dosh is known as very big problem in married life. A girl is considered to be a Mangalik, if the Mars is placed either in the first, fourth, seventh, eighth or twelfth house of her horoscope. A girl having a 'Mangalik dosha' or 'Vishakanya Yoga' present in her horoscope has a threat of becoming a widow. A kumbha-Vivah is a arranged for such girls.
Shani Dosha Nivaran Pooja
As per Vedic astrology if the Saturn pierces and passes through the constellation of Rohini then it is considered to be very inauspicious and causes draughts for twelve years making even the survival of the living beings impossible.
Kaal Sarp Dosha Nivaran Pooja
Kaal means death. The person born under Kal Sarp Yog passes through death like agonies throughout the life. The Kaal Sarp Yog is formed when all the planets are situated between Rahu and Ketu. Rahu is known as snake and Ketu is its tail. The person who takes birth in this yog suffer from various problems.
Vastu Dosh Nivaran Pooja
Vastu is a complete understanding of direction, geography, environment and physics.In all, Vastu is a bridge between man and nature.Vastu dosh can be corrected through the changes in the rooms, through interiors of the house, by changing the placements, by using regulators or using some charged objects. Every vastu dosh has some remedy and if taken properly, the happiness and peace comes back in the life again.
Pitra Dosha Nivaran Pooja
If there is Pitrudosh in your horoscope because of which family doesn't grow or the family has to face the problems constantly one has to perform Narayan Bali Puja on the bank of Narmada river near Dabhoi in Baroda district in Gujarat. This Kshetra is very famous for other Pitrutarpan pooja and dedication to ancestors and forfathers.It is believed that by satisfying our ancestors and forefathers who are no more in this world, we can have blessings for happy and peaceful life.
All these Dosh Nivaran Pujas are arranged and Puja Prasadam along with Yantras are Shipped.Shipping cost for Puja Prasadam is extra.Videography can also be provided of the Puja Event,on additional cost and will be sent in a DVD format.
Dosh Nivaran Puja
250$
Other Important Pujas
Sarva Graha Badha Dosh Nivaran Puja & Homam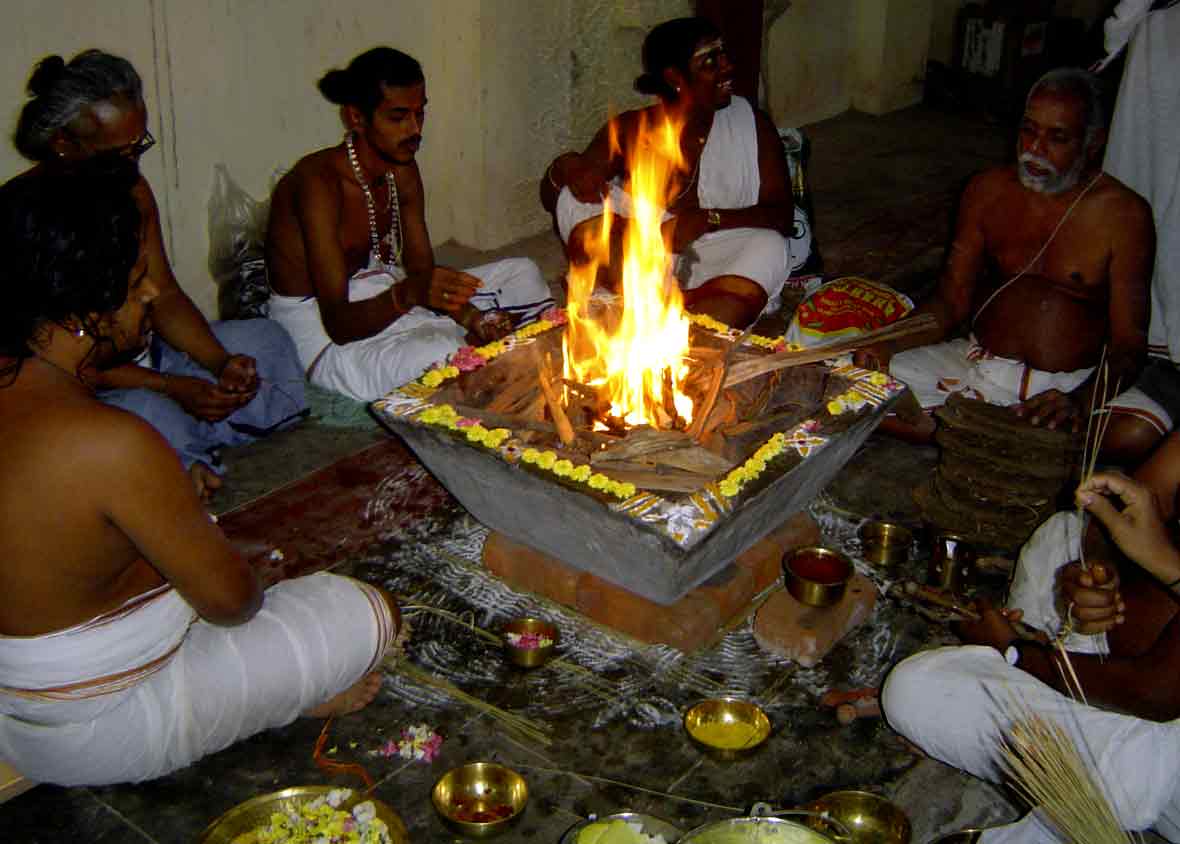 Rid of all Troubles/Problems and All Material Comforts in Life.Badha means "Troubles" and mukti means "To get rid off".This puja can help a person to get out of problems and troubles.In this puja our brahmins will energise the Sarva badha mukti yantra in your name and the homa and offerings will be done.
Bhoot Pret Badha Nivaran Puja & Homam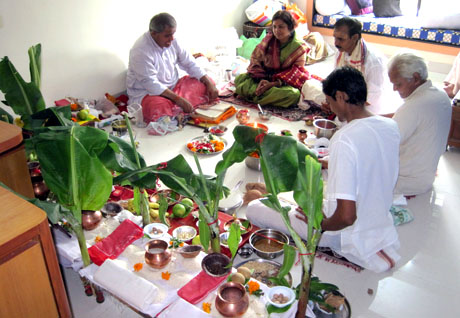 Bhoot Pret Badha Mukti Puja is performed in your name and the homa and offerings will be done.If there is Bhoot Pret badha in your life,then this bhoot pret/ghost nivaran pooja and yagna is a very powerful to get rid of ghosts and evil spirits.It is a Protection Puja from Ghosts and Spirits.
Narayan Nagbali Puja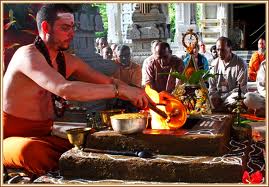 Narayan Nagbali Puja consists of two different rituals. Narayan bali is done to get rid of ancestral curse Pitru Dosh Shaap) while Nag bali is done to get rid of sin performed by killing snake, specially Cobra which is worshipped in India. Narayan Bali Puja ritual is done to fulfill the unsatisfied desires of the ancestral souls which are stuck in the world and trouble their progeny.Mantras are used to invoke such souls who are having certain wishes remaining attached.It is a 3 days long Puja.

Guru Chandal Yoga Dosh Nivaran Puja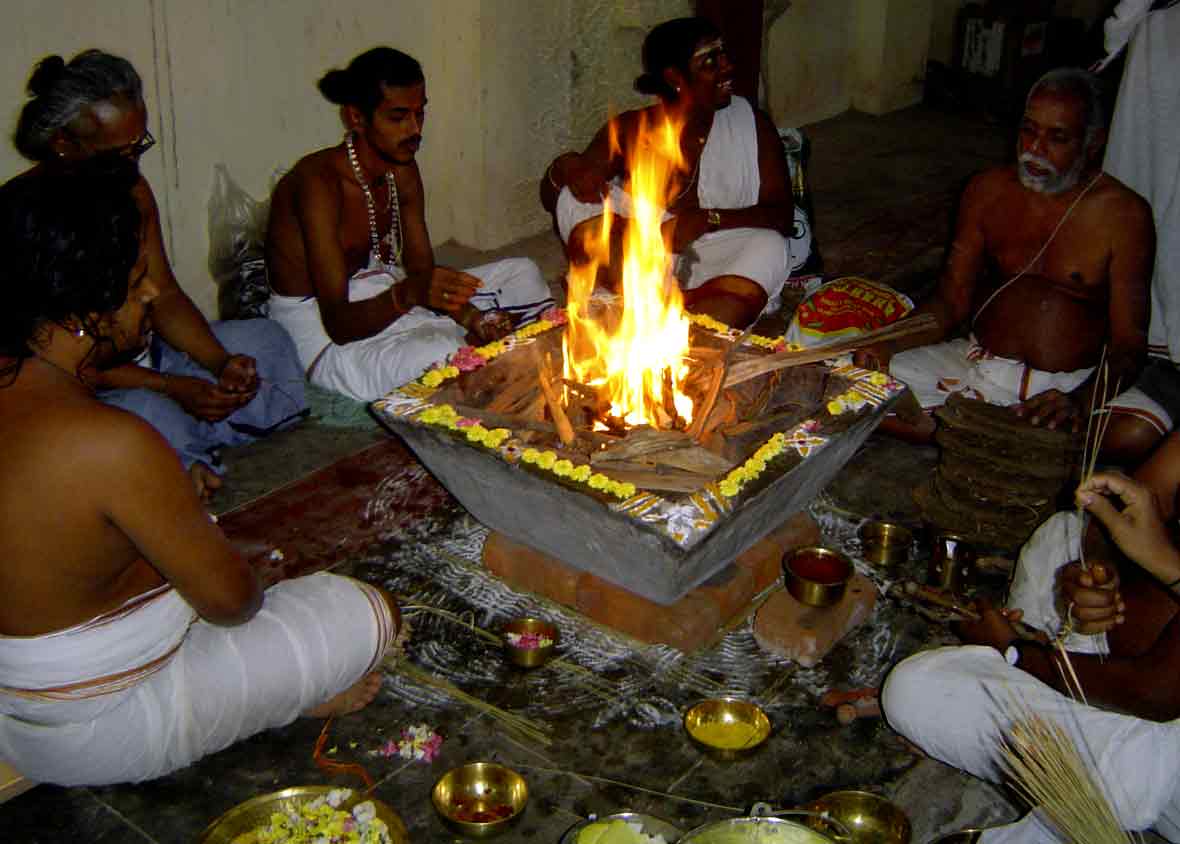 The person affected with Chandal Yog Dosh cannot think clearly and his decisions are faulty. Also he is not able to lead a successful life. To remove this yog there is a specific Puja known as Chandal Dosh Nivaran Puja.
Special Dosha Nivaran Pooja
350$
Maa Katyayni Puja & Yagna (Fulfills the desire of marriage for a 'female')
Chandi Yagna (Fulfills the desire of marriage for a 'male')
Durga Yagna (Fulfills the desire of marriage for a 'male')
Santaan Gopal Yagna (Fulfills the desire for child/progeny bliss)
Lakshmi Yagna (Wealth Enhancement)
Kuber Puja & Yagna (Wealth & Riches)
Kali Puja & Yagna (Protection from' Black Magic')
Lord Hanuman Yagna (Bestows divine grace and Protects from enemies & evil spirits)
Maha Mrityunjaya Puja & Yagna (Evade death/sickness and gain good health)
Goddess Bagla Mukhi Puja & Yagna (To destroy the enemy in dispute and gain power & victory)
Shat Chandi Path (Makes any impossible task possible)
Lord Vishnu Yagna(Ultimate divine grace, wealth, prosperity, joy, spiritual bliss)
Kal Sarpa Shanti Puja & Yagna (Dilutes the 'Kaal Sarpa Yoga'/Serpent Curse in a horoscope)
Nav Graha Puja & Yagna (Propitiates all the nine planets in a horoscope).

Laghu Mrityunjay
Shri Sookta Jaap
Durga Samput Paath
Banglamukhi Mantra Jaap
Kaal Sarp Puja
Santaan Gopal and Harivansh Purana Paath
Durga Sapsati Paath
Gayatri Mantra Jaap
Shani Jaap
Shani Jaap & Homam
Rudrabhishek
Narayan Nagbali Puja
Nadi Dosh Puja
Mangalik Dosh Puja
Chandi Path
Grah Dosh Puja