Rudraksha
Yantra Store
Talisman
Mala & Kavach
Gem Rosary
Redcoral Mala
Navaratna
Crystal Items
Parad Items
Puja Items
Tantric Items
Amulets
Yoga Supplies
Japa Mala
Sacred Items
Spiritual Gifts
Divine Art
Holy Conche
Pooja Store
Sphatic Items
Heera Shankh

Birth Stones
Jyotish Gems
Nine Gems
Astro-Rings
Gemstone Chart
Healing Gems
Gem Store
Gem Consulting
Zodiac Rings
Ashtadhatu
Certified Gems

Marriage
Pujas & Jaap
Kal Sarp Pooja
Dosh Nivaran
Manglik Dosha
Shani Dosha
Mahamritunjay
Pitra Dosh Pooja
Baglamukhi Puja
Guru Chandal
Black Magic
Find Lost Items
Snake Dreams
Rudrabhishekam
Vashikaran
Occult & Tantra
Tantra Sadhna
Bhootpret Badha
Success Puja
Ask Questions
Relocation
Compatibility
Original Gorochan & Online Puja Items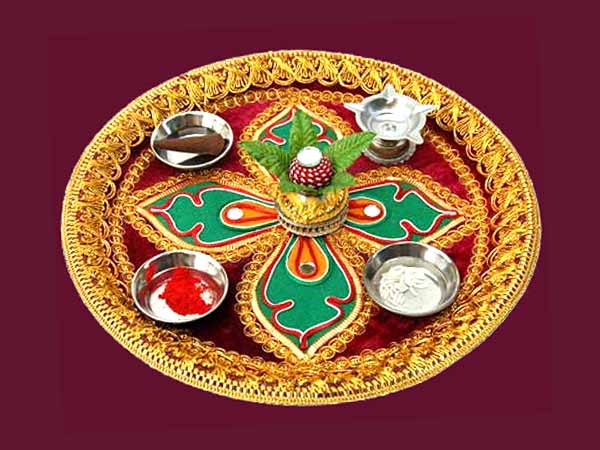 Based in India, we are the foremost procurer and supplier of all variety of Hindu religious goods. We are largest online store of religious products. Our product range from a small diya to large murties and more.We offer Rare Exotic and Auspicious Shaligrams, Gems,Aura Scanning, Coco de mer, Hatha Jodi, Indra Jaal, Sphatik Shivlinga, Ganesh Shankh, Rudraksha, Shaligram Rosary, Trijuti Rudraksha, Religious books, Religious CD's, Religious DVD's, Shankh Stand etc.

Following Pujan Samagri, Hindu Puja Items or Puja /Meditation Products are available with us, as shown in the table,apart from other simple puja items like Agarbathi, Sandal Powder, Sandal paste, Bhibhuti, Kumkum,Turmeric, Sambarani, Kasturi, Dhoop, Mehendi Powder, Panchavarna Nool, Kolam Kolam-Stickers, Honey, Ghee, Rose Water , Cotton Thread,Lotus,Paper Garlands, Decorative Garlands, Dance garlands, Copper rings, Shaligram etc. Pl. send your specific request for given puja items and also for those items, which are not mentioned in the product menu. Puja method, if required is also illustrated.
Name of the Items

Picture

Pricing

Place the Order

Original Gorochan

250$

Indra Jaal

125$

50$

Parad Shivling

80$

Silver Kaal Sarp Ring

90$

Gold Gomti Chakra Pendant

490$

40$

60$

75$

Silver Narmadeshwar Pendant

120$

Kush ka Banda

100$

Rare Puja Items

200$

60$

45$

75$

70$

75$

Hanuman Gada Pendant

80$

75$

Gold Ganesh Rudraksha Pendant

400$

Sphatic Shivling

80$

21 Gomti Chakra Set

35$

60$

Kal Sarp Nag Nagin Joda ( Silver )

80$

Chirmi Beads/Chirmiti

(Black,White,Red & Yellow)

50$

Gold Laxmi Charan Paduka

200$

30$

75$
Many of the above Items are banned in India. May contact for other substitute Talisman to serve the same purpose.
New Puja/Tantric Items
Panch Nag,Moksha Kamini,Chirmi Beads/Simri Seeds,Ashtagandha,Bhojpatra,Gomti Chakra,Red Aloe (Laal Pyaz),Silver Nag-Nagin Joda,Silver Bagh(Lion) Nakh,Black Rice(Kala Chawal),Red Ground Pumpkin (Pataal Tumbi or Patal Tumbada),Patal Bhata, Black Turmeric(Kali Haldi),Sindoor,Kali Nar Mund Mala,Munga Mala,Cowri Shankh,Red Chirmi Beads,Black Chirmi Beads,White Chirmi Beads,Heera Shankh,Gaumukh Shankh,Cowry Shell/Shankh,Counch,Moti Shankh,Homam Items,Navratni Mala,Good Luck Talisman,Money Talisman,Love Talisman,Left Handed Conche,Right Hand Conche,Hindu Puja Bell,Shaligram Silas,Kamal Gatta (Lotus) Mala,Haldi Mala,Tulsi Mala,Kali Mund Mala,Japamala,Deity Asana in Brass/Gold/Silver,Copper and Brass Puja Patra,Dhyan(Meditation) Prayer Puja Shawls,Parad Deity Idols,Crystal Idols,Brass Statues,Bronze Statues,Silver Mangal Kalash,Prayer Puja Mats,Siyar Singhi,Nar Singhi,Hatha Jodi,Cat's Naval umbllical Chord,Maran Mala ,Shani Shankh,Kutubminari Shankh,Neelkanth Mahadev Shivling ,Ganesh Rudraksha etc.
Other Hindu Spiritual Products
Various other Spiritual Product s/ Puja / Meditation & Tantrik Items are also available with us on demand. Please send your request by email at sarnaminsta@yahoo.co.in, to enable us to send You details of the products i.e. availability, weight and pricing etc. Shipping/Handling charges may be extra.
Rubies
Yellow Sapphire
Blue Sapphire
White Sapphire
Pink Sapphire
Emeralds
Diamond
Red Coral
Pearls
Gomedh
Cat's Eye
Tiger's Eye
Aqeeq
Lapiz Lazuli
Turquoise
Amethyst
Aquamarine
Moon Stone
Citerine
Opal Stone
Onyx Stone
Vedic Gems
Untreated Gem
Semi-Precious
Zodiac Rings
Zodiac Pendant
Pancha Dhatu
Our Designs

Vedic Jyotish
Samhitas
Remedies
Horsocopes
Astral
Predictions
Vedic Astro
Money Forecast
Fortunes
Kundli
Lal Kitab
Palmistry
Karmic
Astro-Match
Business Report
Birth Charts
Love
Destiny

Yoga Products
Chakra Jewels
Durva & Kusha
Neem Products
Japa Mala
Jari Buti
Tulsi Products
Tulsi Mala
Fengshui
Pind Daan
Gau Daan
Yoga Retreat
Yatra
Home