Original Narmadeshwar Shivling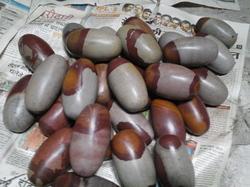 Shiva represents the aspect of the Supreme and is considered to be the destroyer of evils. Shiva is "tri-netra", and is 'neela kantha' - blue necked. Shiva - Nataraja is the Divine Cosmic Dancer. Shiva - Ardhanareeswara is both man and woman. Shiva is both static and dynamic and is both creator and destroyer. He is the source of fertility in all living beings. He has gentle as well as fierce forms. Shiva is the greatest of renouncers as well as the ideal lover. He destroyes evil and protects good. He bestows prosperity on worshipers.
Pricing 75$
Above Price is inclusive of Shipping Charges
Various other types of Shivling and Puja items are also available with us on demand. Please send your request by email at netmaxsolutions@yahoo.co.in, to enable us to send You details of the products i.e. availibility, weight and pricing etc. Shipping/Handling charges may be extra.