Sacred Kusha Mats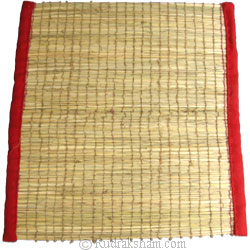 We offer such a large selection of yoga mats, yoga Kusha mats, yoga exercise mats, that you are sure to find a mat that's right for you. Good Yoga mats improve balance and coordination. Most of us are not balanced, and therefore do much of what we do asymmetrically, for instance, we may be stronger on our right side and weaker on our left. With greater stability, there is less compensation. Yoga mats plus knows the importance of getting into Asanas comfortably. Yoga exercise mats ,that properly support your body are essential for your enjoyment and success.
Pricing: 75$ Onwards
Price is inclusive of shipping
Also available Kusha Grass and Durva Grass
Pricing: 50$ Onwards
Price is inclusive of shipping

Various other Puja /Yoga Items are also available with us on demand. Please send your request by email at netmaxsolutions@yahoo.co.in, to enable us to send You details of the products i.e. availibility, weight and pricing etc. Shipping/Handling charges may be extra.