Certified Firoza Turquoise Stone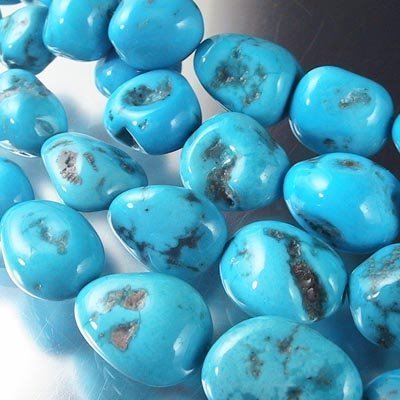 Turquoise is known as Phiroja or Firoja in Hindi . It is regarded as a valuable stone by the people of some religions, as they believe in its occult powers of protection from evil spirits and dangers. This stone is found in different colors, mostly greenish blue and apple green. The sky-blue stones are rarely available and most preferred. Iran, Afghanistan, Egypt, Mexico, Australia and America supply these stones. The blue stones are the best. Some Capricorn-born use this as their birth stone. It is a lucky stone for lovers and horse riders and those who take risks. Various other Islamic Gems/Crystals are also available with us on demand. Please send your request by email at sarnaminsta@yahoo.co.in to enable us to send you details of the products i.e. availability, weight and pricing etc.All of our Gemstones are Lab Tested & Certified for the authenticity and Gem Certificate is sent with each order. We have Natural Firoza or Turquoise Stones from Iran, Egypt and Afghanistan in light and dark colours.

Pricing 40$ Onwards

How to know that Turquoise or Firoza Gemstone suits me?
Know your Birth/Zodiac Stone based upon Astrology
Customized Jewelry Making Facilities
We have full fledged facilities to make Platinum/White Gold/Yellow Gold/Sterling Silver Rings/Bands/Pendants/Bracelet of the given size,embeded with your Astrological Gem Stone/Birth Stone. We are makers of Gold Jewelry studded with Precious and Semi-Precious Gemstones/Birthstones, diamond & colored gem stones, Silver/Gold Rings, Pendants, Bracelets, Earrings and all types of Stone Beads.
View Our Rings/Pendants Designs
Special Attraction

View Salman Khan's Silver Firoza Bracelet

Ask us for the price quotes for the Salman Khan Styled Firoja Silver Bracelet. Price for 10 carats Lab Tested & Certified Tourquise/Firoza Gemstone 10 inch length & 1.6 cm in width Silver Bracelet is 175$ and with 30 carats Firoza Stone is 400$,all inclusive of shipping, lab testing etc. The Silver Bracelet's length and weight can be changed/customized on the customer's request.

10 carat Salman Styled Silver Firoza Bracelet

250$

30 carat Salman Styled Silver Firoza Bracelet

400$

Above price is inclusive of Shipping Cost