Abhimantrit Baglamukhi Yantra & Bagla Mukhi Pooja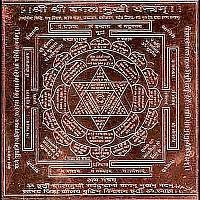 Baglamukhi Yantra is important to defeat enemy.

Bagla Mukhi Yantra is a highly effective yantra and facilitates the achievement of success to attain victory over enemies, success in law suits etc. This yantra also offers protection from accidents. Sadhak should recite its mantra.

" Om Hareeng Baglamukhi Namaha".

It is made of copper. All Yantras are Energized or Abhimantrit as per Vedic Rituals with Mantras and complete Puja Support is provided to establish the Yantras at your Home/Office.
Pricing: 50$
Prices given above are inclusive of Shipping/Handling Charges.
125000 Baglamukhi Mantra Jaap Puja & Yagna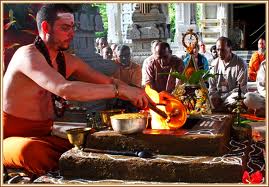 We offer 125000 Devi Baglamukhi Mantra Jaap Puja & Yagna.It is 8 days Puja procession to be performed by 5 Brahmin Priests.This Puja is also some time called Pitambari Devi Puja.This Pooja is perfomed to defreat enemies and also to stop Black Magic or Evil effects.This is very powerful Puja.The Puja is videographed and Puja Prasadam along with Siddh Baglamulhi Yantra is sent along with Puja DVD.

125000 Bagla Mukhi Jaap Puja & Homa

1500$

Prices are inclusive of Videography & Shipping/Charges.
Powerful Baglamukhi Puja to Defeat Enemies
Maa Katyayni Puja & Yagna (Fulfills the desire of marriage for a 'female')
Chandi Yagna (Fulfills the desire of marriage for a 'male')
Durga Yagna (Fulfills the desire of marriage for a 'male')
Santaan Gopal Yagna (Fulfills the desire for child/progeny bliss)
Lakshmi Yagna (Wealth Enhancement)
Kuber Puja & Yagna (Wealth & Riches)
Kali Puja & Yagna (Protection from' Black Magic')
Lord Hanuman Yagna (Bestows divine grace and Protects from enemies & evil spirits)
Maha Mrityunjaya Puja & Yagna (Evade death/sickness and gain good health)
Goddess Bagla Mukhi Puja & Yagna (To destroy the enemy in dispute and gain power & victory)
Shat Chandi Path (Makes any impossible task possible)
Lord Vishnu Yagna(Ultimate divine grace, wealth, prosperity, joy, spiritual bliss)
Kal Sarpa Shanti Puja & Yagna (Dilutes the 'Kaal Sarpa Yoga'/Serpent Curse in a horoscope)
Nav Graha Puja & Yagna (Propitiates all the nine planets in a horoscope).