Powerful Bhoot Pret Badha Dosh Nivaran Pooja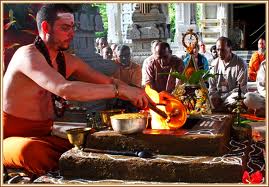 Bhoot Pret or Pishacha is a demon created by a man's vices. It is the ghost of a liar, drunkard, adulterer, criminal, or of one who has died insane. There are many tales and fables about these spirits, describing some as malevolent and others as good-natured and helpful. Spirits are believed to live either at the site of their death or in secluded places. Abandoned homes and peepal trees are two favorite spots. Sometimes, especially during ceremonies, a person is believed to become possessed by the spirit of a deceased family member who is either angry about something, or has come to take part in the festivities. A puja is performed to this spirit. Meanwhile the spirit is believed to be able to predict natural calamities, births and deaths through the possessed person.The Hindus also believe that if a person goes too close to a spirit, or if the services of a professional are employed, these spirits can enter human bodies. The spirit could enter through any of the nine orifices of the body. A possessed person is said to fall sick, die, be unhappy, lose his wealth, or behave oddly.

A Bhoot Pret Badha Dosh Nivaran Puja or Black Magic Removal Puja or Jadu Tona removal Pooja is primarily a protective puja wherein a protective shield is formed around the affected person which prevents all kinds of Black Magic / Ghosts / Spirits / Evil Eyes to execute their malicious intense and exert harms at all the levels that is Physical, Mental and Spiritual.
It is 8 days Puja procession to be performed by 3 Brahmin Priests.This Pooja is perfumed to defeat evils and enemies and also to stop Black Magic or Evil effects. This is very powerful Puja.The Puja is videographed and Puja Prasadam along with Siddh Yantra is sent along with Puja DVD.

Bhoot Pret Badha Dosh Nivaran Puja & Homa

650$

Prices are inclusive of Videography & Shipping/Charges.
Powerful Baglamukhi Puja to Defeat Enemies
Maa Katyayni Puja & Yagna (Fulfills the desire of marriage for a 'female')
Chandi Yagna (Fulfills the desire of marriage for a 'male')
Durga Yagna (Fulfills the desire of marriage for a 'male')
Santaan Gopal Yagna (Fulfills the desire for child/progeny bliss)
Lakshmi Yagna (Wealth Enhancement)
Kuber Puja & Yagna (Wealth & Riches)
Kali Puja & Yagna (Protection from' Black Magic')
Lord Hanuman Yagna (Bestows divine grace and Protects from enemies & evil spirits)
Maha Mrityunjaya Puja & Yagna (Evade death/sickness and gain good health)
Goddess Bagla Mukhi Puja & Yagna (To destroy the enemy in dispute and gain power & victory)
Shat Chandi Path (Makes any impossible task possible)
Lord Vishnu Yagna(Ultimate divine grace, wealth, prosperity, joy, spiritual bliss)
Kal Sarpa Shanti Puja & Yagna (Dilutes the 'Kaal Sarpa Yoga'/Serpent Curse in a horoscope)
Nav Graha Puja & Yagna (Propitiates all the nine planets in a horoscope).