Fourteen Mukhi Rudraksha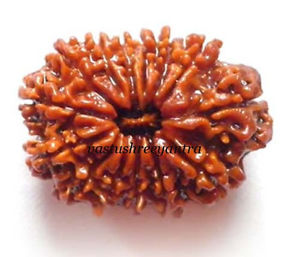 14 Mukhi Rudraksha
Fourteen-face Rudraksha is symbol of Hanuman. It is superior among all. It is bless with the power of Hanuman. It is also worship as symbol of Bhubaneswor. It broadens mind and helps to provide knowledge of spiritual and philosophical subjects. It is worn only in neck. According to Hindu myths Lord Shiva him self wear it on his neck. It helps to get success in all acts. It helps the wearer to achieve the most difficult of Goals. Makes one reach a position of affluence and high rank
15 Mukhi Rudraksha
This Rudraksha belongs to Fourteen Vidhya ( Art or skill). This Rudraksha opens the opportunity of fourteen Vidhya to the wearer of this Rudraksha. The wearer of this Rudraksha get success in all of his works. This Rudraksha make the wearer sharp and intelligent. It removes all the sins and the wearer get the Moksha (liberation) in the end.
16 Mukhi Rudraksha
A very powerful Rudraksha/Rudraksh not very readily available. Very few sources of Rudrakshas have the original powerful beads. It helps combat the obstacles in life and emerge victorious in the most trying situations. It can help you achieve positions of power and authority and develop a strong sixth sense but demands utmost care and attention.
Each Pricing 1000$
Prices given above are inclusive of Shipping/Handling Charges.