Grah Shanti Rahu Puja & Homa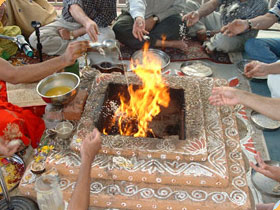 Rahu Puja is to appease the planet Rahu. Rahu Puja is very useful & beneficial puja, since it's worship strengthens benefic Rahu & increases its positive influence and pacifies malefic effects of the planet & neutralizes its negative effect. Rahu Puja is recommended for those having malefic Rahu or wrongly placed Rahu as per horoscope. The planets are to propitiated against their evil influences, to ward off them, the Rahu Puja is done with faith to ward off all evils of Rahu as per the horoscope. The best remedies for Rahu Graha Shanti is Hessonite/Gomeda/Gomedh Ring & Pendant.Shipping cost for Puja Prasadam is extra.Videography can also be provided on additional cost and will be sent in a DVD format.

Pricing : 100$
Special Rahu Pooja Package
In this special 125000 Jaap of Rahu Puja Package ,the Rahu Pujan and Homam will be performed and its Prasadam will be shipped along with Siddha Rahu Yantra and Puja DVD .This Puja is Vediographed.Total cost of this package is 250$,all inclusive,i.e. Shipping etc. all complete.
Rahu Puja Special Package
300$
Rahu Yantra
According to the Veda when Rahu – the son of Asuya or Sinhika covers the sun and the moon with his darkness, then it becomes so dark that the people became unable even to identify their places.Rahu can be appeased through devoted worship and chanting of Rahu Mantra,Rahu Puja and Rahu Yantra It is made of copper. All Yantras are Energized or Abhimantrit as per Vedic Rituals with Mantras.
Pricing: 50$